Join us onsite in Brampton or virtually for a free yoga class and get the opportunity to win prizes and network.
Get ready to kick off your internal health journey and prepare your body and mind with the return of the Empowered Wellness Program! Join us for an invigorating yoga experience that will leave you feeling refreshed and empowered.
Empowered 4x in partnership with Innergy Corporate Yoga is excited to present this special All Level Yoga class led by Amar Patel, an experienced and knowledgeable yoga instructor. Whether you are a seasoned yogi or an absolute beginner, this class is designed to accommodate all levels of experience. Modifications will be offered to ensure everyone can fully participate.
When: Tuesday, June 19th, Time: 6:00 pm – 7:00 pm EST
Where: 205-16 Rutherford Rd S Brampton, ON L6W3J1 or via Zoom.
Experience the numerous benefits of yoga, including inner peace, resilience in turbulent times, reduced stress, improved flexibility, and increased strength.
But that's not all! Prepare to be rewarded with an array of *PRIZES* that will enhance your wellness experience:
Innergy Corporate Yoga will give away a $100 gift card.
Empowered 4x will be giving away two gift cards worth $50 each that can be used towards the 8-week yoga program.
Additionally, participants will have a chance to win a free week at the E4X coworking space.
But wait, there's more! We will be providing free snacks, nourishing your body, and adding a delightful and energizing touch to your wellness journey.
What is required?
To ensure your comfort during the class, please bring your own yoga mat and wear athletic clothing.
Got questions?
Email info@innergycorporateyoga.com for more information.
Don't miss out on this wonderful opportunity to connect with your inner self and experience the benefits of yoga. Join us for this empowering event!
Scroll down to find our map.
Looking forward to seeing you!
PLEASE NOTE:
You need to register to attend this session.
If you require any accommodations to register or to ensure your full participation in this event, please let us know at programs@empowered4x.com.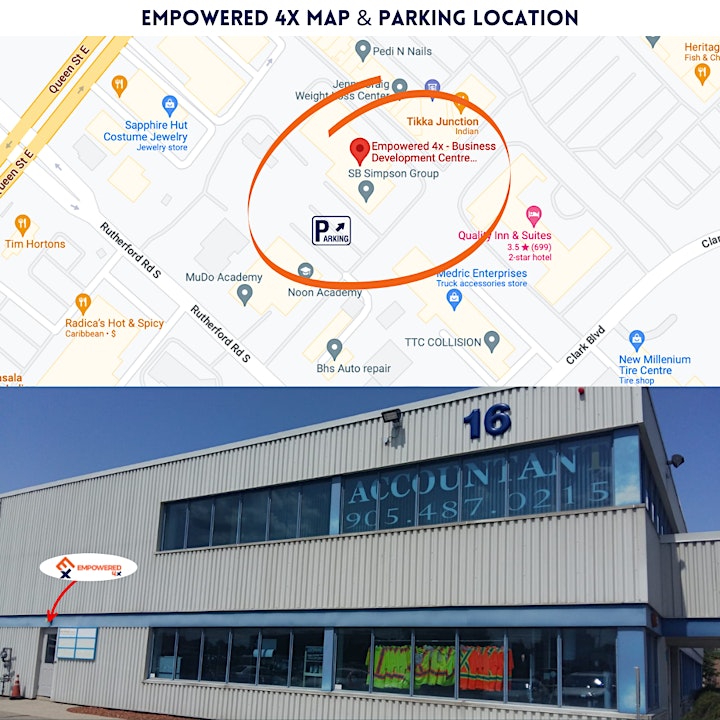 MEDIA CONSENT:
Photographs and video recordings may be taken at this event. Your image may be used in printed and electronic publications for promotional and educational purposes and may be made available to the media and other third parties or published on the Internet. By registering for any of our events, you understand and acknowledge that your image may be taken and used at our discretion. If you have concerns about your image being used for these purposes, please send and email to programs@empowered4x.com